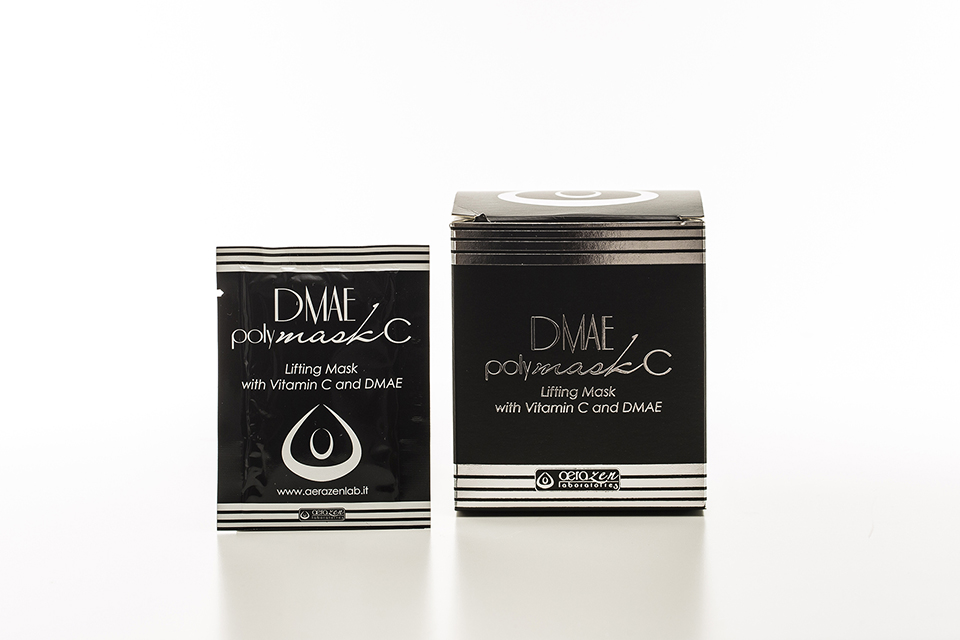 DMAE POLYMASK C
LIFTING MASK WITH VITAMIN C AND DMAE 1%
The application of functional whitening ingredients through a peel-off mask, suitable for all skin types, based on polyvinyl alcohol, allows for immediate effects that tend to stabilise in the medium-to-long term, allowed by a controlled release and a better penetration of the active ingredients. The formulation with salicylic acid, a good exfoliant, which dissolves keratin and promotes cell turnover, associated with dimethylaminoethanol, which stabilises cell membranes and repairs cross-linked proteins, and vitamin C, a powerful antioxidant and co-factor for the maintaining the density of collagen, makes it an excellent
brightening product. Ideal for combating skin spots caused by photo-aging, hormonal alterations, pregnancy, or hyperpigmentation dysfunctions in general, thanks to the action of vitamin C, a tyrosinase inhibitor. Already after the first treatment, the skin takes on a fresher and more youthful appearance, with a better definition of the facial features and restoration of muscle tone.
Suitable for all skin types.
Characteristics: a brightening, cell turnover stimulating and lifting action.
Application technique: thoroughly cleanse the skin with Make up Biphasic Removal, gently rub the PolymaskC lifting sachet with your hands for a few seconds and spread the single-dose mask evenly over
the entire face, leaving on for between 20/30 minutes, then lift the edges and gently peel off the product.
Recommendation: repeat the lifting mask treatment twice a week. Complete the beauty routine with Idrazen cream in the morning and for the evening, as needed, Peptyfill cream for a lifting/plumping action, Spots cream for a brightening action, Pro acne AHA for a sebum-normalising and antioxidant action.
Ingredients:
DMAE: stabilises cell membranes, inhibits and repairs cross-linked proteins, counteracts oxidative stress.
Salicylic acid: exfoliant and promoter of cell turnover; carries out a bacteriostatic, drying and soothing action without causing irritation.
Ascorbic acid: powerful antioxidant, acts as a cofactor for lysine and proline hydroxylase in maintaining optimal collagen density; it has inhibitory activity against tyrosine synthesis.
Each box contains: 25 sachets of 4 ml 0,135 fl.oz.